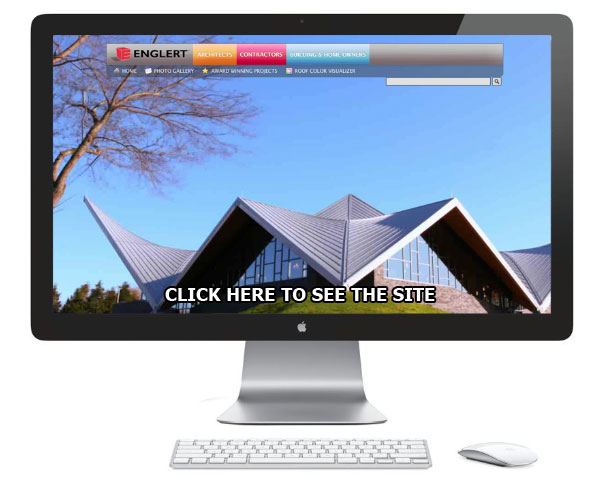 Englert, Inc. manufactures and sells green products for the building industry. They traditionally advertise through national sales reps, to architects, contractors and about 125 franchised dealers. When we began the project for Englert we were presented with a classic problem:
How do we showcase their products to three distinct markets – architects, contractors and building owners – in one website?


How do we position a company that manufactures painted metal coil, roll-forming machines, and re-sells some environmentally friendly building materials, but goes to market advertising the uses of these products?


How do we make the company stand out among its competitors who roll form metals for roofing, siding and gutters?
We answered these questions with a series of targeted videos, a website with pathways for three different customers, and even a little bit of re-focusing of the company brand. The corporate website which was created with the theme "Beautiful By Day or Night" and was enhanced by 5 different award winning Englert-roofed buildings captured from dawn to dusk using time lapsed photography.
The buildings load randomly and play in succession for each new visit to the site.This one is of the St. Aloysius Parish in Jackson New Jersey, built using englert products. The navigation bar uses unique colors for each audience: contractors, home owners and architects as the way to enter and navigate the site, finding the information that uniquely matches their needs. It even boasts a photo gallery with projects featured on a bottom scroll bar, and searchable by type and color. With add-ons for social networking, and links to download the iPhone apps we created for builders, the website is fully capable and a joy to navigate.
We Painted a picture that told a story of Englert as the champion of on-site roll-forming – not prefabricated metals. For the first time Englert talked about the advantages of on-site roll-forming over pre-fab and also feautered the quality of their painted metal stock and the state-of-art paint line that let them provide that. We supported this claim with targeted videos detailing the complex painting process and others.